Living Room

Dining Room

Bedroom

Patio

Accessories

Office
Furnishings from this collection are selected to cater to a lower budget. Their aim is to create a more casual look or blend well with clients' existing furnishings. Despite lower prices, these items will bring a WOW factor to your staging.
Tamara P. in Toronto /
Home Stager
Rent WOW!!! has been an important part of my business. Their ability to accommodate tight deadlines and continuously have great customer service has made our partnership rewarding and I would recommend any stager to work with them.
Tina Marie S. in Mississauga /
Home Stager
I'm very happy and pleased to do business with Rent WOW!!! From an easy access website, great customer service and turn around time, to the delivery guys it's always a pleasant experience and I will continue to do business with Rent WOW!!!
Maria M. in Toronto /
Home Stager
I want to take this opportunity to "Thank you" so much for your terrific service. You're always so helpful and organized. Your furniture inventory is fabulous and you have made my staging jobs less stressful. I look forward to continuing doing business together. Thank You.
Sharon T. in Toronto /
Client
I have used Rent WOW for both large and small jobs and either way the service Is top notch!! They have a great selection of furnishings for all tastes The guidance and support received by the staff inside the showroom is uprecedented and I`d like to give a shout out to my biggest supporter, Nenita, who is tireless in her efforts to ensure my staging results are always a 10+. The employees that work in the warehouse, deliver and pick up the furntiure are very professional and friendly as well. This company seems to have figured out the perfect formula and I fully intend to continue using their services!!
Catherine in Toronto /
Client
I wanted to tell your company how much I appreciated your excellent customer service. When I called your store on Thursday, Jan. 25th, I got a great deal of information from the woman who answered the phone. She was informative and friendly, and arranged a time for me to visit the store. I had called 2 other companies before and both were very lacking in good manners and information, gave me no reason to drive to their stores. Today when I visited your store Monica was exceptionally helpful. She went to great effort to show me many options to suit my staging needs, offered some additional suggestions and gave me all the information I need for future rentals. It was a very postivie experience all around and I look forward to doing business with your company.
How to Order
We designed Rent WOW!!! so it is very simple for you to put a furniture rental quote together. Our personalized Quote Cart is easy to use and easy to understand.
Step 2
Finalize the Quote
Step 3
Pick Your Delivery Date & Relax
Frequently Asked Questions
Google Reviews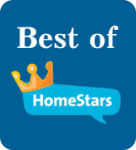 Rent WOW!!! has a great history of customer satisfaction. We are a proud winner of 7 HomeStars awards as the best furniture rental company in Toronto.
Rated 10/10 | 150+ reviews